Attractions and much more…
Unlock the door to a wonderful place.
The Hotel Spa Santa María la Antigua has several attractions that will make your stay the most relaxing experience you have ever had.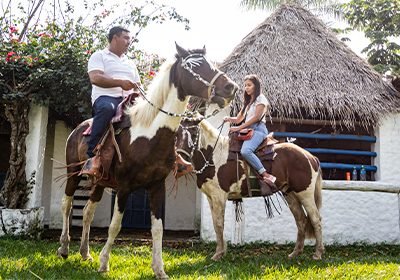 Horseback riding
This attraction contemplates free horseback riding, very much in the style of the ancient colonizers, discovering new landscapes on horseback and feeling new and pleasant sensations ... Ideal for children and for a family activity.
Feeding Alligators
We have a small ecological reserve, where you will find alligators (caiman), with their young in a controlled environment and where you can observe and feed these beautiful creatures.
Milking cow
The Hotel has a dairy, where every morning at 4:00 am the milking cows are milked. In addition to the milking experience you can also experience ambrosia, a drink made from the mixture of freshly milked milk and liquor. In the afternoon, the little ones can interact with the feeding of the newborn calves in the dairy kindergarten.
Spa Samui
It is always necessary to take a break and a break to get out of the routine, many times rewarding ourselves with a deep relaxation produces a deep satisfaction. In order to make the most of your experience at the Hotel, the Samui Spa has an infrastructure specially designed for your well-being, with a sauna and also with services such as alternative therapies and comforting massages and above all beneficial for you and your health. Do not rock this experience and discover the advantages that massages have for your well-being and health. All our massages are performed in cabins specially designed for your relaxation. In a unique and unforgettable experience.
Gastronomy
In Santa Maria "La Antigua" we have the restaurant "El Rosio" where you can savor Bolivian gastronomy made from products from the Hacienda itself. In addition to roast lamb and other delicious dishes, our table awaits you so that you can taste delicious specialties.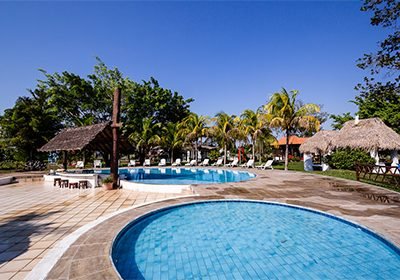 Swimming Pool
Our pool is a place of immediate relaxation, an enjoyment of sensations ... At sunset with the beat of good music, an exotic drink and with the spectacle of the landscape, the haven of water creates a paradisiacal and charming atmosphere.
Chapel
No spirit lives but lives in God ... We have a chapel to protect the soul and our devotion accompanying our beliefs, worked by great local artisans and a specialist in the field, a true work of spiritual art.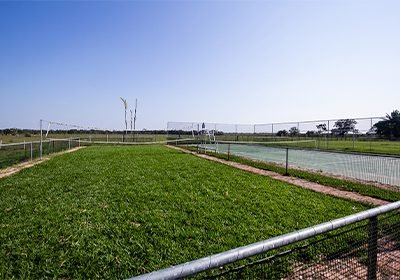 Tennis, Soccer and Volleyball Courts
Our different sports facilities help improve concentration and coordination, helping to establish the relationship between space and distance, strength and direction. In the same way, it improves agility, balance and the strengthening of different parts of the body.
Mini Golf
Mini golf a de-stressing sport in which you can improve your concentration and coordination, help establish a relationship between space and distance, strength and direction.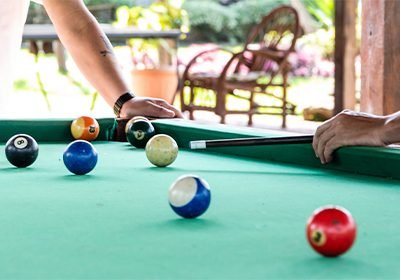 Football, Billards and Pin Pon
We offer our clients a variety of entertainment activities of their choice, so that they can enjoy their stay in our establishment and have an unforgettable experience.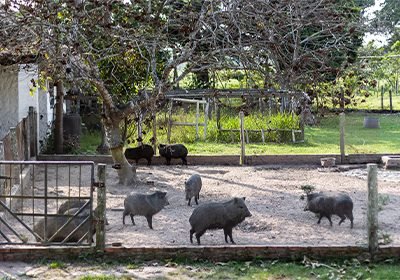 Educational Farm
Visiting a farm is a fabulous activity for children to experience what is known as discovery learning, getting to know the countryside and nature through direct contact with animals and plants.
Dairy
The dairy that has been in operation for over 30 years is expertly designed to keep workers and animals protected and healthy, as milk helps prevent muscle mass decline, lowers blood pressure, and strengthens the immune system among others.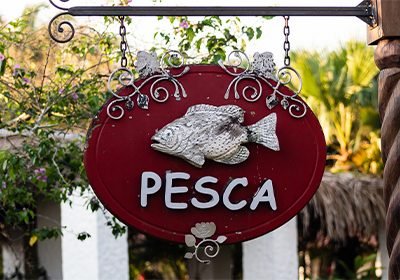 Fish and Pay
Fishing leads you to obtain comprehensive well-being, for all the benefits it provides, such as physical, mental and emotional health. Daily life pressures you until you can saturate yourself, causing stress and other ills such as gastritis, back pain, migraines, etc. However when you fish it's you and the rod, so your head is cleared and mental fatigue is reduced.
Guide Walk
Every day more people choose to be part of this activity, since the natural passages by which the Hotel Santa Maria is surrounded fill the body with life, in addition to helping you tone your muscles, burn fat and relax allowing you to enjoy nature .
Safari
The surroundings of the Hotel Santa Maria la Antigua are surrounded by nature and surprising culture, where you can meet wonderful animals, a unique experience and for a lifetime. In order to enter the life of the animal world, the safari is done with a camouflaged Toyota 4x4 vehicle.
Playground
Children need to run, play and move without stopping, to be able to connect with other children and enjoy nature and discover the world around them.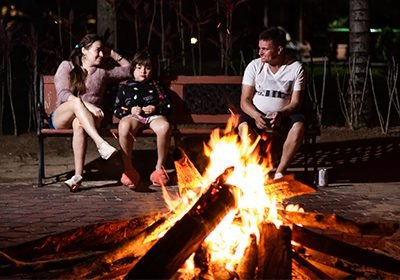 Wood Fire
Every night when night falls, we light the campfire and provide all our customers with marshmallows with a special rod so they can be sure of the fire and enjoy the heat of the campfire.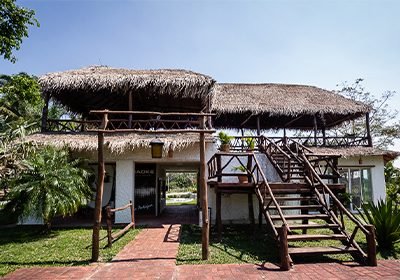 Karaoke
In Our karaoke you can increase your confidence by singing your favorite songs, you can also stimulate your brain and calm the stress of everyday life. In the same way, you can enjoy a unique moment with your friends or family, full of fun and unforgettable moments.
 OUR ADDRESS
 "Spa Hotel Santa María la Antigua"


5km from Buena Vista – Bolivia and 95 km from the 

city of Santa Cruz de la Sierra.
RESERVATIONS
 Phone: +591 71694655
Mail.: info@santamaria.com.bo
OUR ADDRESS
"Spa Hotel Santa María la Antigua"
5km from Buena Vista – Bolivia and 95 km from the 
city of Santa Cruz de la Sierra.
RESERVATIONS
Phone: +591 71694655
Mail.: info@santamaria.com.bo